The Home Management Binder
A Home Management Binder is a tool, to bless the Christian homemaker. It is a 3-ring binder, which houses lists, schedules, routines, recipes, charts, and perhaps other things, such as family documents, etc. It is not boring. It is purposely made beautiful, exactly to the homemaker's specific tastes. It is a joy to use.

It is housed in a large binder, and is not meant to be carried around. It is meant to reside in the Christian homemaker's headquarters - her kitchen. The kitchen should be the hub of the house; the place where the meals are prepared, where games and special talks take place around the table, and where good smells waft about. Kitchens hold some of the best family memories. The Home Management Binder should live there.

Creating a Home Management Binder that Blesses

STEP ONE: First, you need to gather together the basic materials. Mainly, you'll need a binder, and some paper. You can decide the thickness of the binder, and other things you'd like to house in your HMB.

STEP TWO:The Cover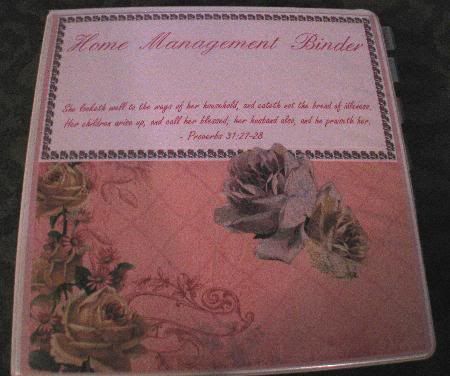 Before you begin putting things into your HMB, please take the time to make the cover of your binder beautiful. You are not ready to work on the inside, until the outside makes you smile. What are images you picture in your mind, that bring you the feeling of warmth, happiness, family, and joy? Gather up some of those images and put them on your HMB's cover.

STEP THREE: Stock the Binder




Consider what types of tools you want to keep in your binder, and place those in a binder pocket or pouch. It may be handy to keep such things as a pen, dry erase marker, hole punch, etc. Also, it's good to use clear page protectors, and place all of your papers inside those. The Avery brand is pretty good, but there are lower cost off-brands that are great, as well.

In the front pocket, keep some scratch paper. Use this to jot down things you run out of, that will later need to be put on the grocery list. Also use the paper to write yourself little notes or reminders, when needed.

STEP FOUR: Pages of Inspiration




You may want to put in a pretty cover page, with a picture that you love, or one that inspires you. Scripture quotes are also nice to put here.

You may also want to put in a poem, or something you found off of the internet. Below is an inspiration page with the poem "Do the Next Thing," by Anonymous: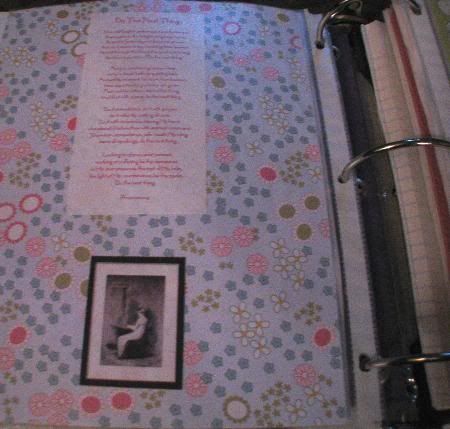 STEP FIVE: Schedules




Consider creating a cover page for each section of your binder. Also, putting on stick-on tabs, dividing the binder into sections, helps for quick reference. I got my tabs from the stationary section of Wal-Mart, and then I used colored pens to write the different section names on each tab.

If you are at a loss as to what to put in the Schedules section, here is a .pdf file you can print out. It contains a schedule chart, along with an example schedule, a blank to do list, along with an example to do list, and a blank reading list, with an example reading list. If you are new to this, then please use this print out, and build from there. It is a starting point.

STEP SIX: Menus and Recipes




On the same day of each week, make a menu plan for all the meals you plan to cook. Keep these menu plans in your HMB. Also, use this section to house some of your favorite recipes, and a master grocery list. You can print out examples and blank forms/charts for this section from here .

STEP SEVEN: Cleaning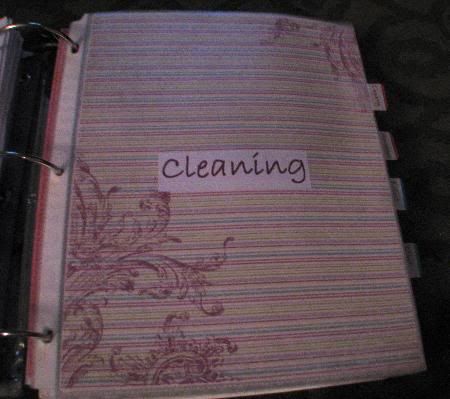 Create a daily and weekly cleaning routine for yourself. Also, make a list of projects that you'd normally do on Spring Cleaning, and do one or more of those projects each week, and elimate Spring Cleaning. For examples and blank charts/forms for cleaning routines and projects, click here.

STEP EIGHT: Homeschool




If you homeschool your children, you'll need this section. Keep a copy of your state's homeschool laws here. Also, keep a list of your children's school books, materials, and subjects, along with their reading lists, and your homeschool routine. Chart printouts for this can be printed from here.

STEP NINE: The Budget




It is preferable for the husband to handle the budget, but some men allocate this to their wives. If you go over the budget and bills, then you can set up this section to help you. Put in a binder zipper pocket, and use that to house your bills. After that, put in some paper for budget planning, followed by any other financial pages you may need. Here are some print outs to assist you in setting up this section.

STEP TEN: Other




Keep fun things in this section. You may want to keep some family photos here. This is also a good place to keep things you may have printed off of the internet, and wish to study in more depth at a later time.

STEP ELEVEN: People Contact Info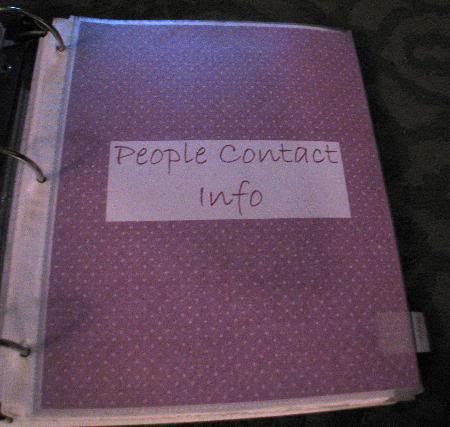 Instead of having a separate book for addresses and phone numbers of friends and family, why not keep it all in your HMB? This is a good section to be the last one. This way, if you need to access the address book, you know to just flip to the last section of your HMB.

DonnaYoung.org has great printouts to use for a phone and address book in a binder here.

STEP TWELVE: Use It

Use and enjoy your HMB. It's the Christian Housewife's best friend, when it comes to running the household smoothly.

Remember, it should "live" in the kitchen. There is an exception, however - if you are going away for longer than one day, take it with you. I take my HMB with me on weekend getaways and vacations. It has always come in handy. I've used its recipes, utilized my address book, and more. It is also fun to show to friends and family.

Sisters, I hope having a HMB blesses you greatly.